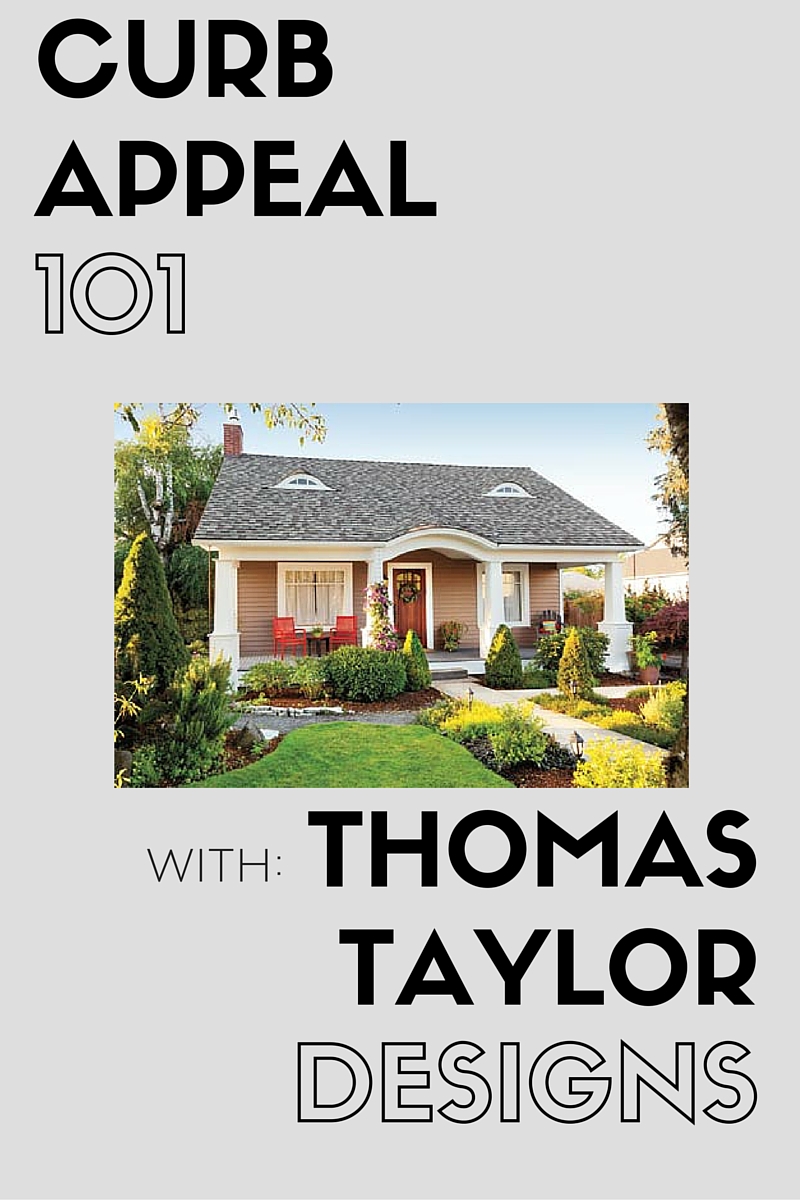 We welcome back our landscape guru, Tommy Thurston of Thomas Taylor Designs. Today we asked him about curb appeal. As the summer housing market is in full swing we wanted to an expert's advice on what the outside of our homes need to be in order to sell, or to just make it prettier. Here is what we asked Tommy:
What defines good curb appeal?

Good curb appeal has color, texture and contrast. Great curb appeal has lots of details. You want a variety in plants along with a look that makes you stop and go "wow!"

What defines bad curb appeal?

Bad curb appeal is where there is no variety, for example, all the plants are the same color and size. No variation in texture, color or type of plants.

When looking for curb appeal, what all makes this up? Just the plants or the house or both?

It's a combination of everything! It's the look and architecture of house from the color, the trim, the front door style to the walkway up and lighting to the landscaping around the house – bushes, trees, flowers, mulch etc. The right combination of these factors is what makes up great curb appeal. Great curb appeal adds value to your home as well as beautifies your neighborhood, while giving you a sense of pride in your home. (photo courtesy of: http://www.thisoldhouse.com/toh/photos/0,,20569946_21119693,00.html)

What's the current trend in curb appeal?

Right now the trend is low maintenance, drought tolerant plants and features, and a move to use more native plants. Native plants tend to do better in the area as they do better with water conservation and you don't have to work as hard to keep them going, usually.

What are the top three things you can do for instant curb appeal?

The top three things you can are 1) add flower pots. They are fairly inexpensive and a variety of types and textures make it a great vessel to add umph! 2) Clean/trim existing landscape. Overgrown vegetation and trees take away from the look rather than adding to it. 3) Add mulch or ground cover. Bare spots are not a good look for anything and just adds a little texture for the eyes.

What's the best vegetation for Iowa?

Native prairie grasses are the best for low maintenance plus water control. They also just look amazing! See the photos below of Prairie Dropseed and Little Bluestem Grass.

Prairie Dropseed, photo courtesy of: http://plants.gertens.com/12070009/Plant/5539/Prairie_Dropseed

Little Bluestem Grass, photo courtesy of: http://www.ufseeds.com/Little-Bluestem-Grass-Seed.item

Should we focus on just the front of the house or the back of the home when looking at resale value?

You should look at both! You need good curb appeal at first to grab the attention of the buyer and then you want to have your backyard look like a private oasis. People are wanting a private get-away and sprucing up your backyard to be this can be the last hook to get the buyer to say yes!

Our last question for you, any last tips or advice for creating good curb appeal?

My last tip is to first, put some effort in your curb appeal, and second hire a professional. They have the best solutions for all of your curb appeal problems. Plus, they have the time to dedicate to the project, where if you are doing it yourself, it may take up more time and resource than you think.
Thank you to Tommy for taking the time to answer all of our questions! If you need help with your curb appeal and overall landscaping, feel free to reach Tommy of Thomas Taylor Designs at 641-691-5991.
We love a great curb appeal! Does your house have great curb appeal? We want to see it. Post your picture or link to a picture of your house.
If you are looking to list your house, call Fauna at 641-751-2748, to help you sell your home!