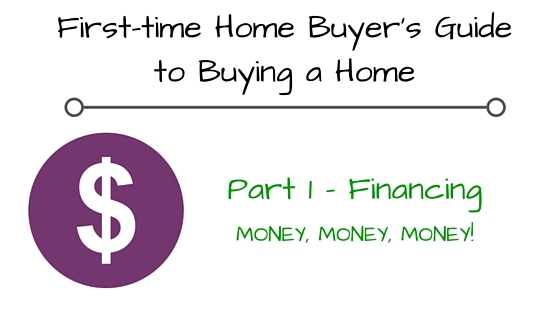 Happy April Fool's Day! The day of the year where practical jokes run rampant. Buying your first home, though, is no joke. As first time home buyers are usually younger adults, the world of real estate is scary and intimidating. We are running a 3-part series: First Time Home Buyer's Guide to Home Buying, to help you understanding some key topics when starting to buy a home.
This first topic we are talking about is Financing - i.e. MONEY!
Money determines what type of house you can afford, what loans you can apply for, which loans will affect which house you can buy, etc., etc. Without money, you can't buy a house. Sorry, but you can't get it by trading apples or smiling really pretty.
When you are looking to buy for the first time, here is what you need to do to get your finances in order:
Get pre-approved for a loan:
After finding your Realtor, this is THE most important step for you to take! Your process should be:
1. Find your Realtor first!
2. Set up an appointment with a Lender.
3. Get qualified for a loan and obtain your loan letter.

There are a variety of loan programs available to you, each with their own set of advantages. You'll want to find a local Lender to work with to help you navigate your options. If you're not familiar with a local Lender, your Realtor will certainly be able to help!

Why choose a local Lender? A home is easily the largest financial and emotional purchase of your life. Trust us when we say you want a local Lender that you can meet with face-to-face to ask questions and discuss loan options.

Decide on how much of a down payment you can pay:
Down payment money is another important area of conversation for you and your Lender to have. Are you covering the entire down payment alone, or are you planning on getting a down payment gift from a family member? Remember, the more you put down, the less you'll need to borrow!

Look at how much the bank will give you vs. what you can actually afford:
No one wants to be house broke.
Be sure to look at what the monthly costs will be! You may be pre-approved for a $200,000 purchase, but after factoring in insurance and property taxes on top of your payment, you may feel more comfortable at $180,000. Your Realtor and Lender can help run monthly scenarios for you. Don't forget other monthly expenses like utilities! This is where doing your homework really pays off.

Dream homes are just dreams. Living within your means will get you further:
Talk with your Realtor about your housing goals. Together, we can determine what your needs are versus what your wants are. Concessions will have to be made, and you have to decided which ones can you live with, or live without. This is when you really want to be open and honest with your Realtor!

Improve your credit score:
If you're not quite ready for a home loan, ask your Lender for credit counseling. Your Lender should give you advice and steps to take to improve your score. Follow his or her advice, and you'll be well on your way to repairing your credit!

Save up for that down payment:
Ready to buy a home, but lack sufficient down payment funds? Discuss with your Lender if a blood or marital family gift is an option for you and the loan you want. If this gift is not an option, old-fashioned discipline and savings will get you there!
We hope this helps with some of your money questions and also gets you started on the right path on buying your first home! Next week in this series, we'll talk about, what to look for in a home. In other words, what features and characteristics should you look for when considering purchasing a home.
Happy Buying!
Do you have any great financial advice for first time buyers? We'd love to hear your comments below. We also want to hear your questions below too!