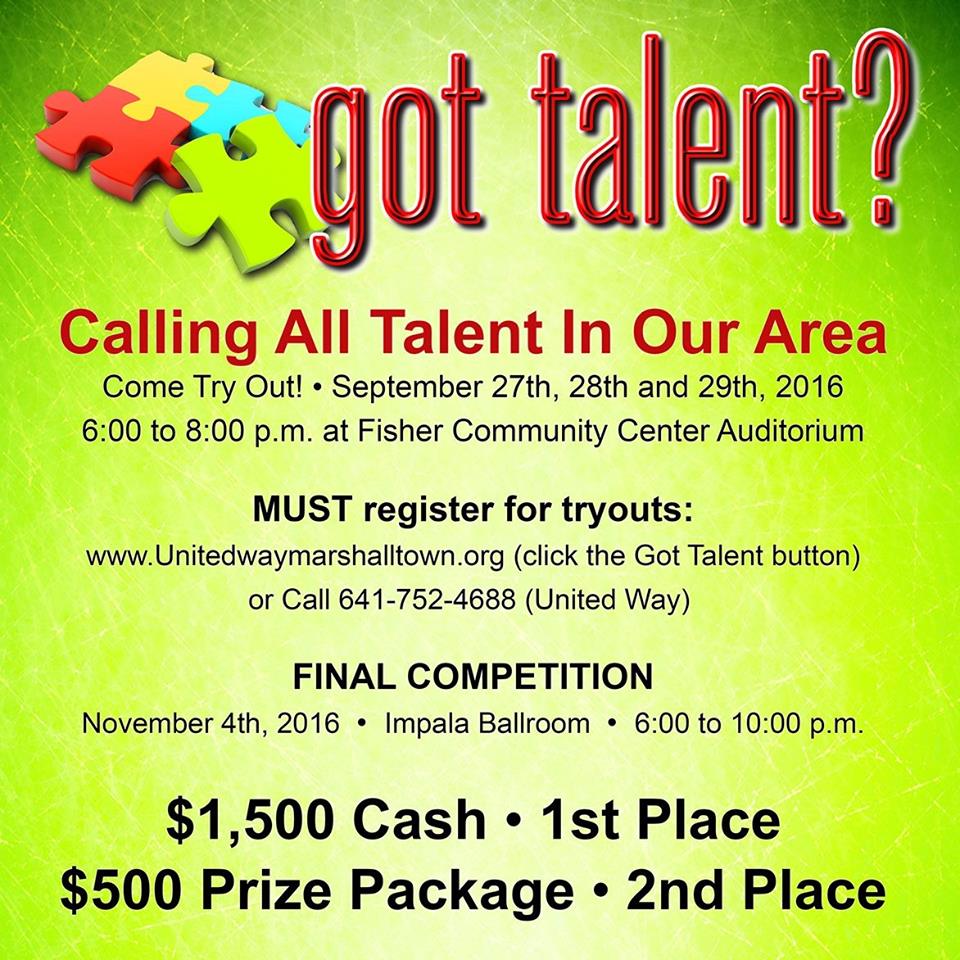 As you all know we, Fauna and Kelli, are co-chairs for this year's Marshalltown Area United Way campaign. We are so excited to lead a great team of people in raising money for our community. We have already gone on sponsor visits, like the one to Lennox, cheered on everyone at the United Way Golf Tournament, and promoting the campaign through radio spots.
We are super excited to introduce our new fundraiser, Got Talent? This event is a great way to promote local talent in our area! The actual event – Got Talent? – will be held Nov. 4, 2016 at the Impala Ballroom starting at 6 p.m. The winner will be selected by how much money they raise for Marshalltown Area United Way along with a panel of judges who will give them much deserved praise and commentary. The winner receives a cash prize of $1,500! Cool right?
To get to the actual talent show on Nov. 4, you have to try out. Try outs will be held Sept. 27, 28, 29, from 6-8 p.m. at the Fisher Community Center. We want you to try out! Know of a friend who is gifted? Encourage them to try out for the show! To register for tryouts go to www.Unitedwaymarshalltown.org and click on the button or call Marshalltown Area United Way at 641-752-4688.
Tryouts will be a great time and we encourage everyone to try out! BUT, if you don't want to try out do come to the show! It will be a fun time. Tickets are $30 and will go live the first week in October. You can get your tickets at the United Way office or at Coldwell Banker.
Have you been in a talent show? What did you do? Tell us in the comments below!