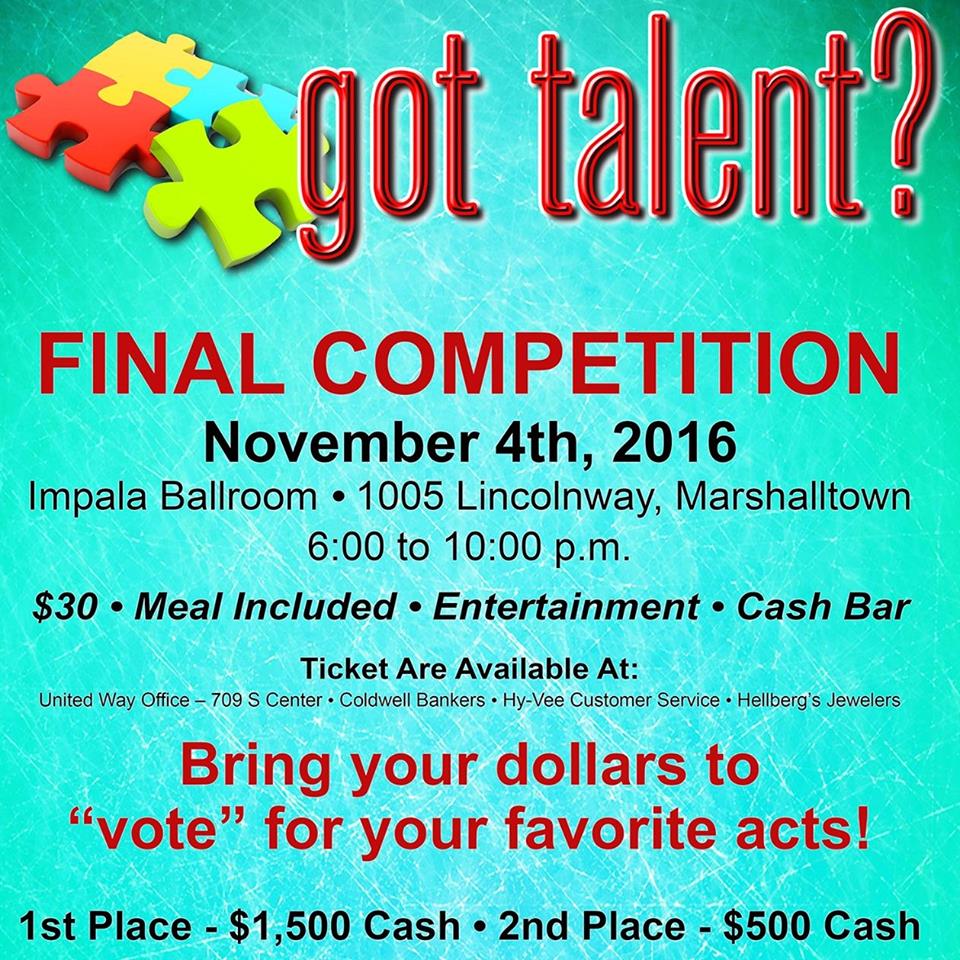 We are so excited to announce that the 14 finalists have been chosen for United Way's Got Talent tonight at the Impala Ballroom. The talents will compete for the first place prize of $1,500.00 and a second place prize of $500.00!
Here are tonight's acts:
Dean Messerly (vocal)
Sommer Braye (vocal with guitar accompaniment)
Nikki Stevenson (vocal)
Brett Wax (bagpipes)
Brianne Yates (vocal)
Josh Grimes (piano)
Averi Bolar (vocal)
Liz Karns (opera)
Natalia Ryner (Broadway performance)
Jake Pinnick (electric bass guitar)
JJ Ace (Gary Judge) (classic rock band)
Nikolas Skurdahl (dance and hip hop)
Severio Manceri and Trace Ohrt (music box with guitar and vocals)
and Ed Burroughs (comedian).
Got Talent's doors will open at 5:30 p.m. with a dinner to start and the show to follow. There will be 14 acts that evening. This is going to be such a great time! You need to purchase your tickets now, as they will go fast and seating is limited! Tickets cost just $30 and are available at the United Way office; Hellberg's Jewelers; Hy-Vee customer service and Coldwell Banker Premier Real Estate. Did we mention how excited we are for you to come? Well, we are! All proceeds go directly to United Way – Marshalltown.
Throughout the evening, our "judges" will be there for commentary and comedic relief! We're happy to announce that Mark Petruccelli, Jeff Harris and Cathy Van Staalduine will be our "judges", Denny Grabenbauer will be our M.C., and Cat from Cat Tracks will be our D.J.
After dinner, the talents will preform for the audience in two groups of five and one group of four. After each group preforms, voting will commence! Voting will be done with dollars, after all this IS a fundraiser! Each act will have a team captain who will run around the room gathering money for their act. At the end of the first three rounds, the top seven acts that raise the most money will continue on to the semi-finals for the evening. In the semi-finals, the top seven talents will preform an act different from their first. After these seven talents preform, voting will start over. The top three acts that raise the most money from the semi-finals will advance to the finals! The three finalists will preform a final act and the winner will be determined by round of applause.
Our fundraising goal this year is $797,000. We need your help to raise this amount through tickets to Got Talent and by donating to United Way either online or giving a check – any gift helps! We ask that you consider matched giving by your employer to maximize your donations. All United Way donations go right back into the community, as 99% of your gift stays LOCAL to help citizens in need in our community! The Marshalltown Area United Way helps fund 27 local agencies from ACCESS to Youth and Shelter Services to Heart of Iowa Big Brothers Big Sisters Marshalltown and many more. Learn more about Marshalltown Area United Way at www.unitedwaymarshalltown.org.

Can't wait to see all the great acts perform. We'll see you tonight at Got Talent!