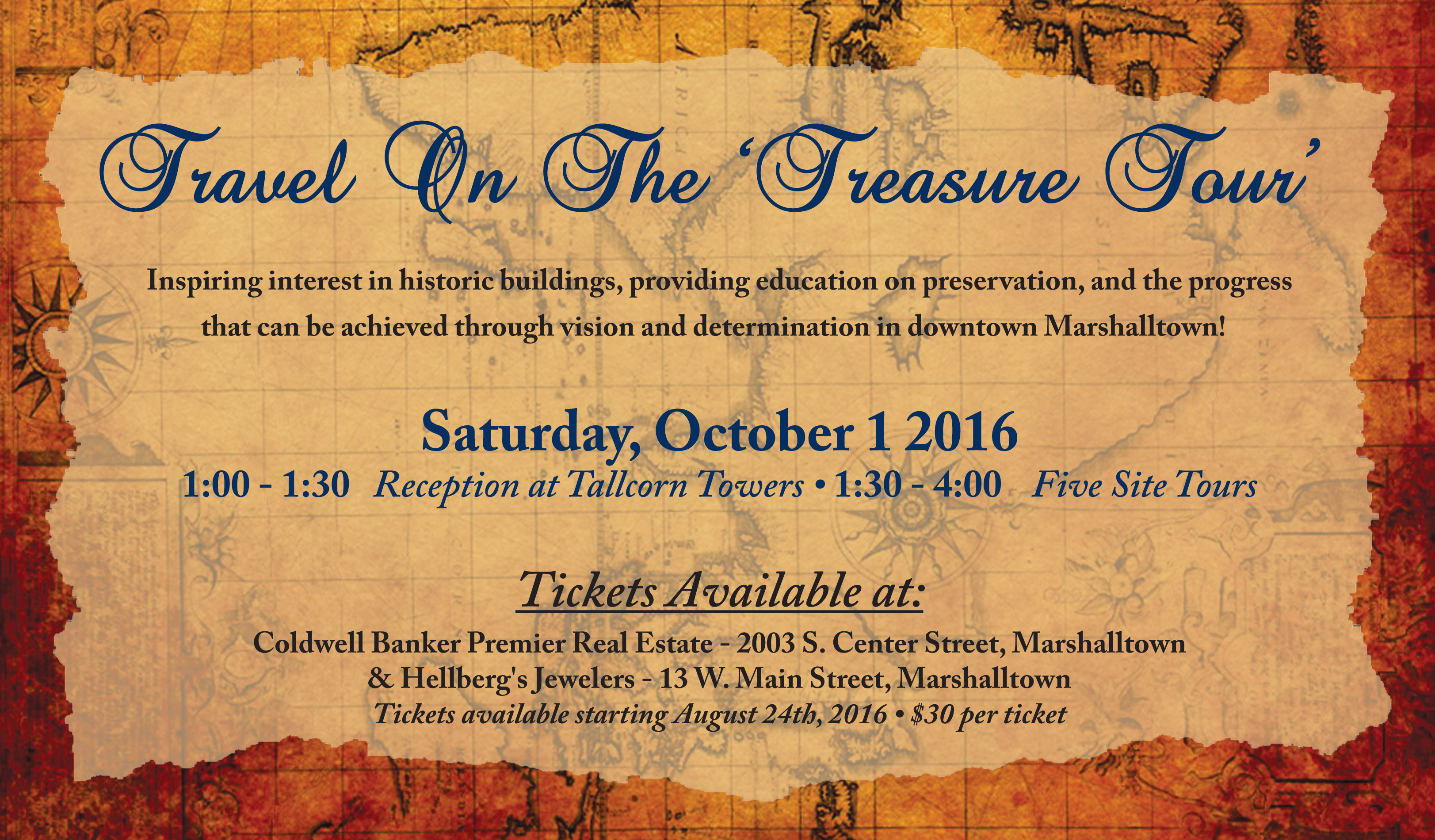 There is so much happening in Marshalltown in the next couple of weeks. We are so excited to be a sponsor of the Marshalltown Central Business District's Treasure Tour October 1. We are so excited about this tour! The Treasure Tour takes you up to the second and third stories of some of the downtown buildings. Some of these buildings are historic with their second stories still intact as to what they were used for way back when. Others have been remodeled into gorgeous apartments that only tenants have access to. There are five buildings on the tour this year, and let us tell you, they will blow your mind! Which five buildings you ask? You'll have to purchase a ticket to find out!
Tickets are $30 and all proceeds go to Marshalltown Central Business District. The Marshalltown Central Business District is a Main Street community, who works to better and grow our downtown. They need your support to better help them in their initiatives and enhancing the downtown.
The event starts at 1:00 p.m. with a small reception at the Tallcorn Ballroom. You must have a ticket to participate. What tickets are left will be available at the door. You can purchase your ticket at Coldwell Banker, Hellberg's Jewelers and the Main Street office.
Treasure Tour is not a yearly event, so come see these buildings while you can! It's a great opportunity to support your downtown as well as take part of the history of Marshalltown.
If you need something to do the night before, September 30, come downtown for the Downtown Marshalltown Art Walk! Downtown businesses host an artist in their store. The businesses show off their own business while promoting their artist. There are over 20 regional and local artists displaying and selling their art. It starts at 4 p.m. and ends at 7 p.m. Heart of Iowa Marshalltown Big Brothers Big Sisters is hosting a sidewalk chalk competition for 6 to 18-year-olds. The theme is "Super Kids". Registration to chalk starts at 4 p.m. and the art has to be finished by 6:30 p.m. when the judging begins.
What all events are you going to in Marshalltown? We'll see you downtown!