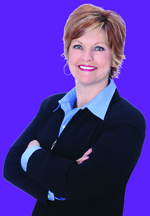 Hello! Happy 2016! My name is Fauna and I'm excited to kick off our new blog, by telling you about me!
As you might have noticed, I'm a realtor in and around Marshalltown, Iowa. I LOVE my job and enjoy what I do! I was always interested in real estate and finally took the plunge and started taking classes to become a real estate agent. And now, I've been in the real estate market for over 15 years.
My favorite part about real estate is the people. I'm definitely a people person, and real estate is all about people. Getting to know them, whether they are buying or selling or both, makes my day. I love helping them find a new home, while welcoming the next owners home.
I'm super involved in my community, serving on the board of directors for the Marshalltown Central Business District, Marshalltown Convention and Visitor's Bureau, United Way Campaign, and many more. Giving back and investing in one's community is very important to me. I want to make the place where I live and work a better place, and help it reach its potential. Marshalltown is a great community and is looking to really take off and grow in the next few years.
My wonderful husband and I love to travel and at one-time, taught ballroom dancing! My only son is a social media guru; traveling around the US, helping businesses learn best social and online media practices. I have two adorable cats, Sushi and Cha Chi.
Working along side me is Kelli Thurston. Together we make up the Fauna Nord Team with Coldwell Banker. You'll be meeting her next and I can't wait for you to!
If interested in any properties around town, please feel free to reach out to me, Fauna - 641.751.2748, fauna.nord@coldwellbanker.com, or Kelli - 641.751.8284, thurston.kelli@gmail.com. Please follow us on Facebook, Fauna Nord Team, Realtor.