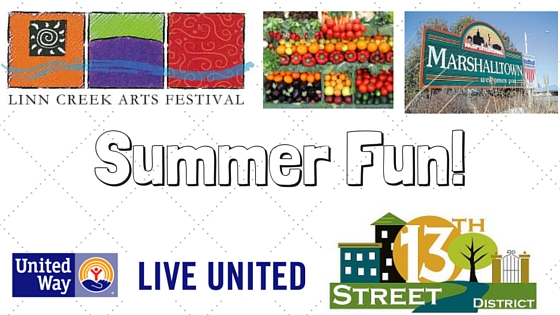 It's officially May! School is wrapping up, people are planning their summer vacations and the weather is becoming warm, sunny, and just beautiful! Not to mention real estate in Marshalltown has been moving fast, which is great for buyers and sellers alike. The trees are almost to full leaves and the flowers are just stunning! It really makes you want to get outside and enjoy the smell of things living and growing.
That being said, we wanted to take a minute and share what is going on around Marshalltown in the upcoming months:
May 13th- Hello Spring Fling! On 13th Street. Music, food, fun and so much more! This district has gone through a lot of redevelopment and is home to our wonderful Echo public art piece.

June 12th – Skate Park Fest. Held here in Marshalltown, this is for all ages. Registration will begin at 1pm with competition to being at 2pm. More information can be found on the their Facebook event page.

June 23rd – Marshalltown Area United Way Golf Tournament. This charity event is for everyone! Sign up your team now. Entry fees are $65/golfer and $15/person for half a golf cart rental. Early Bird deadline is June 1. Deadline for entry is June 15. This is being held at the American Legion Memorial Golf Course, 1301 S. 6th St., Marshalltown.

July 16th – Linn Creek Arts Festival. This family friendly event is held at the Fisher Community Center. We love going to this event! So many artists, activities, food and fun! During the festival, downtown Marshalltown will be having a door-art contest with the upstairs doors for the Main Street businesses. Come check out the doors and vote for your favorite!

July 16th – Marshalltown Main Street, Street Dance. The Marshalltown Central Business District is partnering with Linn Creek Art Festival to "Opening the Door to the Arts", by hosting a dance to downtown Marshalltown. Burgers, beverages and a band will make this a grooving place after the festival closes.


As you can see we have some great events coming up and can't wait to mix and mingle with everyone! What events are you going to here in Marshalltown this summer? We want to hear where you are going in the comments!
If your goal for this summer is to sell your house, look no further! Call Fauna today – 641-751-2748! Also, if you are looking to buy, Kelli is more than happy to help – 641-751-8284.