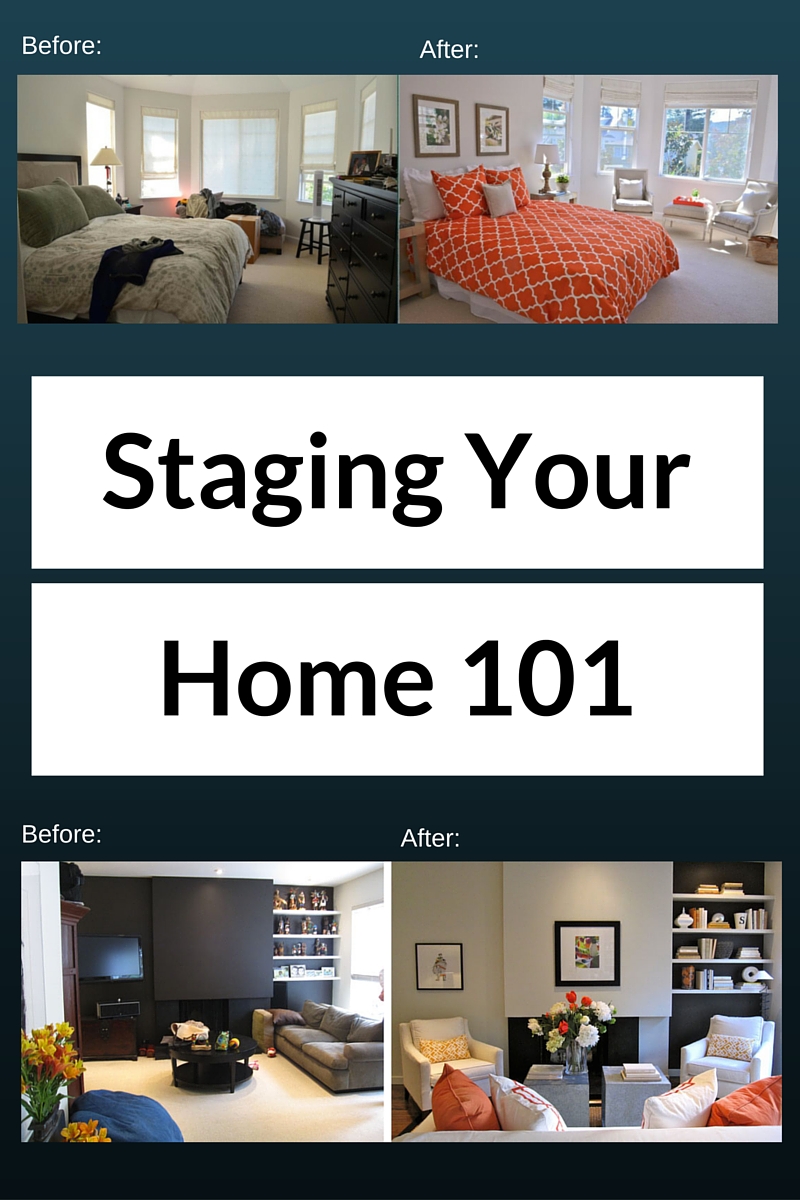 Staging, the necessary but sometimes dreaded task of many home sellers. Staging is the process by which you make your home look not like your home, but look like the dream or next home of a buyer. Staging one's home involves many steps and actions, depending on the modernity of the house. Today's buyers want to see what they don't know is possible, while picturing themselves in the home. For example, putting a room to look like a reading nook, when you used it as a catch-all. They'll go "that's cute, I'd love to have a reading nook" and then buy the house. *Disclaimer, we all know that isn't typical for every property, but a real world example of what buyers' thinks. The number one goal of staging is to remove as many objections as possible. Basically taking away any reason for the buyer to say no. As staging one's house can be a bit of a challenge, and pricey, we are breaking it down for you to what you really need to do to get your home selling ready.
Bare minimum Staging:
This is the minimum any home owner should do to stage their home for selling. There's always more you can do, but here is the minimum to get your home sold in a timely manner.
Depersonalize: Go through every room and take down all family photos, children's artwork on the fridge, your teddy bear from your grandma, all of it. The less your home speaks of you the better. Now this can be a hard thing to do, and Realtors understand that, but it needs to be done.
Empty out those closets! Take at least 2/3 of everything out and place it neatly in bins in the basement or rent a storage unit. Buyers want to see the depth of the storage space available and picture all their stuff fitting in.
De-clutter! Put away all toys, knick-knacks, newspapers, etc. Depersonalize the space and put only the bare essentials like a cute display on the coffee table or on the dining room table.
Clean like your life depended on it! By clean, we mean scrub as if you have an infectious disease and your house is under quarantine! Or better yet, clean like your mother-in-law is coming. Clean the baseboards, scrub the toilet and shower until your arms fall off. Clean out the refrigerator, clean out the pantry, wash the windows and deep clean the carpets. Make it look like new. You can do this yourself or you can hire a professional.
Paint: Love that boarder of apples and blossoms in the kitchen? Love that Merlot colored wall in the dining room? Your buyer doesn't. Take down borders and wall paper and repaint in a nice neutral tone. Repaint a neutral tone over that accent wall. The less paint personality your home has the better. A neutral palate (see the picture) gives the buyer a blank canvas to imagine their own colors and personality. Also, don't forget to cover nail holes in walls of the pictures you took down.
Remove all squeaks and beeps: A squeaky door or hinge gets super annoying and is an easy fix with WD-40. Also, if battery operated, be sure to update batteries in all of your smoke detectors.
Tour current homes on the market: If you haven't sold a home in over 20 years, then you need to go out and see what the current market looks like and what you should be aware of, things that current buyers see. It will also help you see why your Realtor is having you do certain things.
The above is the bare minimum. The next phase is Just a Little More Staging. You'll want to do everything above and the following:
Update the flooring: By redoing the floors we mean replace the carpeting, replace any worn or broken wooden flooring, replace the linoleum. The less the buyer sees needs to be done the better it will sway them to buying. This item is particularly important if you have pets. We all love Mr. Fluffy, just not his odors.
Boost curb appeal: Remove all dead flowers and stems and make sure only green is showing. The outside of the home is the first impression. If it looks dingy, the buyer already will have a negative impression in their head. Replace the front door if broken or super worn.
Repaint the deck as needed: A deck can be a huge selling point but if it looks worn or unstable, the buyer will look at that as a negative. If it needs repaired, do it. If it needs repainted, do it.
Remove and group furniture accordingly: This is part of decluttering but also allows the room to breathe. If you have furniture clear to the walls and then some, it's hard for the buyer to see the layout of the room and if they will be able to fit their stuff in the space. But if you have a queen bed and a nightstand in a room that looks small and it fits comfortably, then the buyer sees what can fit and will be more comfortable moving in. The bottom line is you want the buyer to see the spatial relationship between furniture and the room size.
If your home isn't selling and you've done the above, plus consulted with your Realtor, here are a few more things to go all out:
Upgrade your appliances or mechanical systems: If you aren't taking it with you, upgrading the included appliances can significantly increase the chances of your house selling quickly. If the buyer sees that they won't have to upgrade for a number of years, then they are more willing to purchase that property. Same goes for your furnace, AC unit and water heater. If all else is well in the home but you have a dinosaur of a furnace, buyers will see this as an objection.
Hire a professional stager: If you are burnt out from DIY jobs, hiring a professional to suggest more ideas or even do all the staging can really help you. It is an extra expense but it will be well worth it, if it helps sell your property faster!
Selling a house can be daunting but nothing is more discouraging than if it sits on the market and doesn't sell. Staging allows you to move it quicker (for the most part, depending on other factors --#1 is price!) and help you downsize and clean for the move. Sometimes houses don't need a lot to be staged and others need a whole ton, especially if it is a vacant property. There are numerous ways to stage a home and all levels of money that can be spent to do it. Always consult with your Realtor on what should be done and hire a professional stager if needed.
What is your favorite thing to do see staged in a home? Call us if you have questions or are ready to list your home!